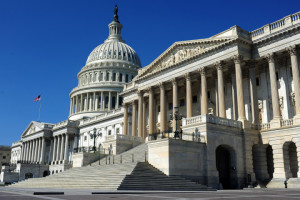 Asbestos-Related Incident Shuts Down US Capitol
Did you think that asbestos exposure was a problem of the past? News coming out of Washington, D.C. shows that this issue is currently affecting some of the most powerful people in America.
According to reports, the House of Representatives portion of the U.S. Capitol building was shut down early in the morning on Thursday, July 10 due to an asbestos-related incident. All House employees, including lawmakers and aides, were told not to enter the premises until further notice.
Architect of the Capitol (AOC), the office responsible for a multi-million dollar renovation of the Capitol Dome, said in a statement that there was a "potential release" of toxic material during an asbestos removal project that was underway on the fourth floor of the building. Shutting down a portion of the Capitol was necessary to give inspectors time to take samples and determine the severity of the exposure.
The removal work taking place on the fourth floor was just one of the asbestos related projects currently underway at the Capitol, according to the AOC. That such an incident took place in one of the most revered buildings in America underlines the fact that asbestos can affect anyone.
While the Capitol was quickly reopened and business was back to usual, this could have been a very serious incident. It appears the proper authorities handled the situation correctly in this case. Otherwise, many people's lives could have been endangered and important political business could have been delayed.
If you are concerned about a potential asbestos hazard with your home or commercial property, it is highly recommended that you hire a licensed, professional team to complete the necessary testing. Selecting the right company for asbestos testing is easy. Contact the experienced and skilled team at Asbestos Abatement, Inc. for all of your asbestos removal in Denver.