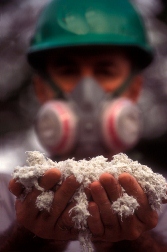 Recent Scare Shows Importance of Asbestos Testing in Denver
Just ask Steve and Kim Weiner how important asbestos testing in Denver can be. The Baker neighborhood couple recently decided to move after learning that asbestos fibers and particles had been released during a construction project in their apartment building.
As reported by CBS4 in Denver, the Weiners were afraid to even let their family members help them move. They didn't want to risk exposing their loved ones to a carcinogen.
After asbestos abatement services were called in, testing of the apartment building revealed that there were dangerous levels of the cancer-causing substance. It was detected in a few different units within the building, which prompted several tenants to move out.
According to the Denver Department of Environmental Health, the asbestos fibers were released as construction workers began ripping out some fiberboard from the paneling on windows. The CBS4 story says witnesses reported that the workers were not wearing protective masks at the time of the incident.
This is a very serious incident that underscores the importance of asbestos testing in Denver. Many buildings still contain this toxic and dangerous substance. Proper testing procedures can protect people like Steve, Kim, and these construction workers from unnecessary exposure.
If you own, live in, or work in a building that you fear may contain asbestos, call 303-794-4450 to speak with the professionals at Asbestos Abatement Inc.