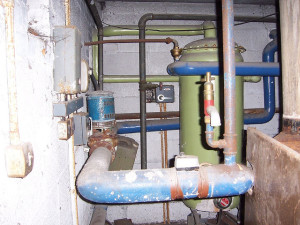 Denver Boiler Removal from Colorado's Largest Asbestos Removal Contractor
Because of its effectiveness as a fire retardant and sound barrier, asbestos has been very popular material chosen for boiler and boiler room insulation. Thanks to its widespread use, many properties now need Denver boiler removal or else risk dealing with the health hazards that result from asbestos contamination.
Asbestos can be found within boilers, boiler rooms and equipment associated with boilers. It may be found lurking inside of flange gaskets, pipe insulation, firebrick, furnaces, inspection cover gaskets, spray on fireproofing used for walls and ceilings, or insulation placed between skin and tubes.
If you have a boiler, it's fairly likely that it contains asbestos or asbestos was used during the installation and construction process. In the past, builders didn't know how dangerous asbestos could be to human health. Today we fully understand that prolonged exposure can cause deadly cancers and respiratory diseases.
Do You Require Denver Boiler Removal?
The Environmental Protection Agency recommends not disturbing or removing asbestos unless it has been damaged or requires renovation. To ensure the dangerous fibers are protected from future harm, it is required that all asbestos-containing materials are identified, marked and sealed.
If damage has occurred or any new construction is planned for an area containing asbestos, you need to find certified professionals who perform boiler removal in Denver. The removal process is too dangerous to trust to untrained and unqualified staff.
Corporate Mechanical, an HVAC repair company in Minneapolis, recently blogged about the dangers of neglecting heating systems in homes, and the same advice applies to commercial and industrial furnaces. If you ignore it, a serious problem like asbestos could go unnoticed.
Contact the Experts
Asbestos Abatement Inc is the largest asbestos boiler removal contractor in Colorado. We're highly experienced with Denver boiler removal services. If your property is facing a threat from confirmed or potential asbestos contamination, call 303-794-4450 or contact us for inspection and removal solutions today!