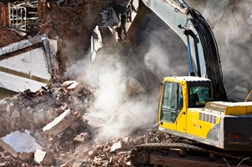 Asbestos Construction Sites in Colorado
Asbestos has long been a popular material for builders. Despite all that we know about the harmful effects of this toxic substance, it is still found in many homes and buildings throughout the nation.
Because of its popularity as a building material, asbestos is a major hazard for people in the construction industry. It's often found during the process of remodeling, demolishing or renovating older structures.
Here are some of common building areas and materials most likely to be the source of trouble in asbestos construction sites in Colorado:
– Fire resistant drywall
– Acoustical products
– Pipe insulation
– Cement pipe and sheet
– Tile floors
– Sprayed-on fireproofing
– Drywall joint compounds
– Roofing felts and shingles
– Ceiling tiles
The Occupational Health and Safety Administration, or OSHA, is responsible for regulating asbestos construction sites. This includes the following scenarios:
– The demolition or salvaging of buildings and homes that have asbestos
– Getting rid of or encapsulating ACM (asbestos-containing material)
– Building, altering, fixing, maintaining or remodeling structures or substrates that contain asbestos
– Sanitizing an asbestos spill during emergencies
– Installation of products that contain asbestos
– Moving, storing, disposing, containing or cleaning a property that has asbestos or products that contain asbestos.
Worker Safety in Asbestos Construction Sites in Colorado
The safety of workers should always be a top priority. We recently spoke with a representative from a personal injury lawyer in Minneapolis about construction worker safety. He told us, "Employers should assess and monitor conditions to ensure workers aren't improperly exposed to toxic substances in asbestos construction sites. Unfortunately, this isn't always the case."
Sometimes, construction workers are exposed to asbestos while on the job and lack the proper knowledge equipment or training to handle these asbestos-containing materials safely. In these situations, employers can find themselves liable for endangering workers.
Asbestos Removal in Colorado
As the largest contractor dealing in asbestos removal in Denver and throughout the surrounding areas in Colorado, Asbestos Abatement Inc. is highly qualified to handle big jobs involving construction sites, apartment complexes, schools, and similar facilities.
To work with a with an AHERA licensed contractor with an A+ rating with the better business bureau, call us at 303-794-4450 today!