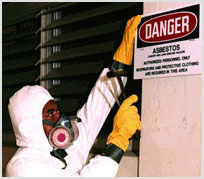 Does Your Popcorn Ceiling Have Asbestos?
For many years, popcorn ceilings were a very popular addition to homes in the Denver area and throughout the US. Unfortunately, like a lot of outdated building and paint materials, we now know that popcorn ceilings can pose serious health risks.
A home remodeler specializing in basement finishing in Denver says before you go scraping away at the ceiling to redo it or paint over it, you should first have it tested for asbestos. "When we discover potential mold, lead, or asbestos threats in the properties we work on, we always recommend calling in a professional for testing. Not doing so would put you and your family at risk of breathing in dangerous carcinogens or health hazards."
When to Test Popcorn Ceilings for Asbestos
Even minor damage and decay from aging can cause a contaminated ceiling to release asbestos. Because a slight disturbance can produce terrible results, it's important to arrange professional testing before attempting to remove the problem through a DIY remodeling project.
If you notice dents, tears or abrasions in an area suspected of containing asbestos, seal off the room and don't let anyone in until an expert has come to perform testing.
Never Take this Threat Lightly
When damage occurs, toxic fibers are released into the air. If you breathe them in and they become lodged in your lungs, you could experience a range of severe health concerns. Symptoms sometimes don't appear until 20 to 30 years after being exposed to asbestos for the first time, but the effects are undoubtedly serious.
Take it from Central Roofing, a commercial roofing company, "If your home has any popcorn ceilings, you should consider them a potential health threat. Act as soon as possible to ensure your family's safety."
Asbestos Abatement can help you with all of your Denver asbestos removal needs.
Contact us today to arrange third-party testing and efficient removal of the dangers posed by popcorn ceilings.